Ultimate Challenge
DeLisle Elementary Holds Ultimate Challenge
Excitement was in the air as DeLisle Elementary students and staff gathered in the school gymnasium to experience the Fuel Up to Play 60 kickoff, the Ultimate Challenge, and the School-Wide S.T.E.A.M. (science, technology, engineering, art, and math) Challenge Showcase.
The event began with students representing each homeroom demonstrating their paper airplane designs which were created during the school-wide S.T.E.A.M. challenge. In the challenge, students were tasked with creating paper airplanes designed to travel the farthest possible distance. Some students achieved impressive flight distances of 50 or more feet!
Next up, Physical Education teacher, Coach Curtis Cotton along with Fuel Up to Play 60 representative, Cathy Deveer, introduced Fuel Up to Play 60, an in-school nutrition physical activity program launched in partnership by the National Football League (NFL) and the National Dairy Council. Fuel Up to Play 60 is designed to engage and empower youth to take actions to improve nutrition and physical activity at their school and for their own health. DeLisle Elementary School will actively take part in the Fuel Up to Play 60 initiative throughout the school year.
Finally, the moment everyone was waiting for, eager students sat on the edge of their seats as the Ultimate Challenge, a student vs. staff volleyball match, got under way! In order to qualify for a coveted spot on the Shining Stars student volleyball team, students had to complete 100% of their homework for the entire first nine weeks of school.
While rooting for their favorite team, students enjoyed a delicious, complimentary smoothie provided by the school cafeteria. During the game, the school's cheer leading club along with the Pass Christian High School cheerleading squad promoted school spirit and good sportsmanship throughout the game while student announcers delivered a play by play commentary of the heart pounding action. Two talented DeLisle Elementary students provided half-time entertainment. The audience was captivated as second grader Jacob Hobgood performed a beautiful violin solo and third grader Kaylee Necaise played an enchanting piano solo. The game, which was a real nail biter, ended in a tie!
Pictured: Teegan Dewitt, Chloe Cuevas, Kamdon Lizana, Peyton Lacy and Pejah Lloyd prepare to launch their airplanes.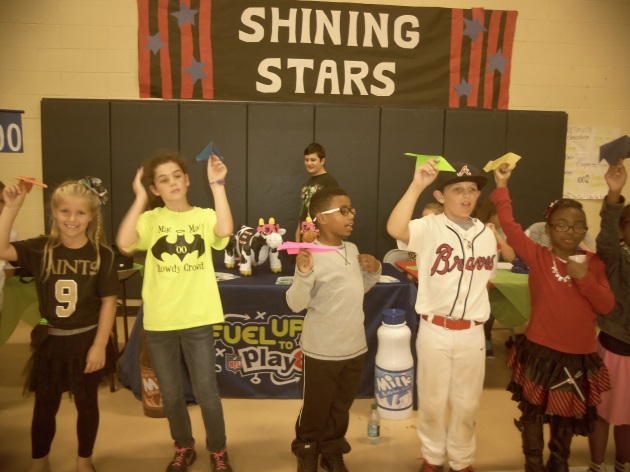 Pictured: Fuel Up to Play 60 representative Cathy Deveer presents teachers Tanya McClellan, Curtis Cotton and Keli Lopez with a Fuel Up to Play 60 Pledge.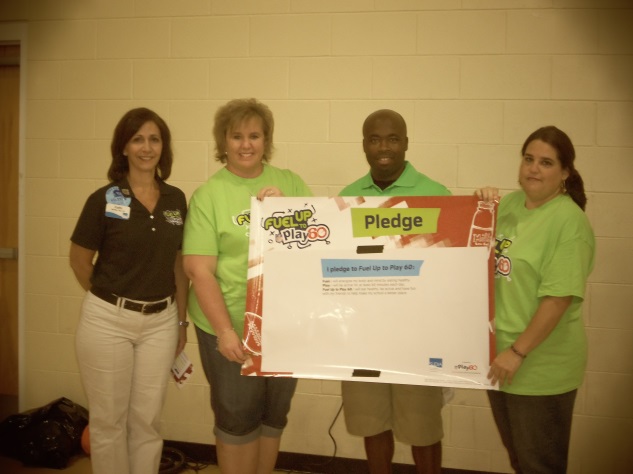 Pictured: The Shining Stars student volleyball team hit the ball over the net to the teachers Dream Team intently focused on scoring a point.